Carolina Theater Interior Shot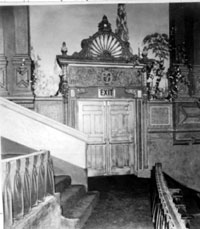 Wondeful example of the decorative interior design that is typically found in movie theaters from the 1920s and 1930s.
The Carolina Theatre opened in 1927 on the corner of North Tryon and Sixth Streets. With a seating capacity of 1,800 and beautiful architectural and decorative features, it remained popular entertaintment venue for many years. Today part of the theatre still stands and efforts are underway to restore the structure to its initial glory.
Image Path:
/sites/default/files/ncrImageGallery/MIC_2004_08_0157_00.jpg
Physical Description:
4x4 print with 4 x 5 negative
Copyright:
Charlotte Mecklenburg Library
Table of Contents
|
Request Images