Clark Griffith Baseball Stadium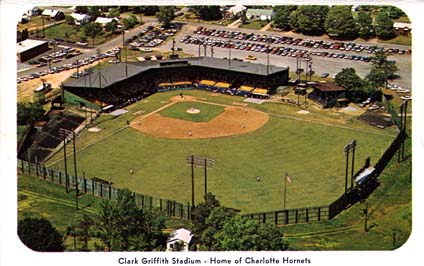 From 1941 to 1971, the baseball stadium was known as Clark Griffith Stadium in honor of the Washington, DC baseball owner. Jim Crockett purchased the ball park in 1971, and thereafter was known as Crockett park. The stadium was the home of the Charlotte Hornets from 1941 to 1976 when the Orioles took over the baseball team. In 1985, three arsonists burned down the facility, and it was not rebuilt.
Image Path:
/sites/default/files/ncrImageGallery/CP_2012_04_551n_00.jpg
Copyright:
Aerial Photography Services, Inc.
Photographer:
Aerial Photography Services
Table of Contents
|
Request Images