Two Popular Buildings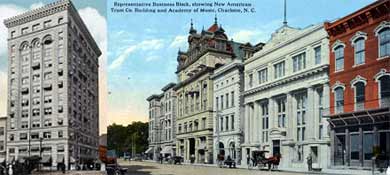 The Realty Building (1907) on the left is on the corner of Trade and Tryon. It becomes known as the Independence Building in 1920.
On the right is the American Trust Building at 210-212 South Tryon Street is the fourth building from the right. Built in 1901 for Frederick C. Abbott, George Stephens and Word H. Wood who run the American Trust Company. The Academy of Music occupies the first floor of the six-story building. This is where traveling opera and musical companies, as well as symphonies perform to the delight of local audiences.