Violet G. Alexander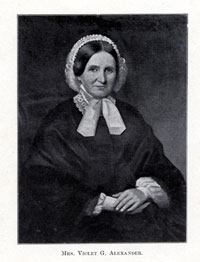 Illustration of Violet G. Alexander, daughter of Joseph Alexander.  She married Dr. Moses Winslow Alexander, who was the son of J. McKnitt Alexander. Violet Alexander died in 1868 and is buried a the Hopewell Presbyterian Church.  The illustration was appears to have been done in mid-1850s.
The illustration is from General Joseph Graham and his Papers on North Carolina Revolutionary History (1904).
Image Path:
/sites/default/files/ncrImageGallery/MIC_2004_08_0201_01.jpg
Physical Description:
Copy of an original 1850 portrait.
Copyright:
Charlotte Mecklenburg Library
Table of Contents
|
Request Images